SalezShark Connect+ (Previously DataGuru.in) is an intuitive marketing automation
solution to connect across the entire customer journey.
Connect+ automates customer connect with the right message, at the right time. With Connect+ you can:
Get access to quality prospecting data in B2B

segment

Execute insight-driven personalised outreach
Automate customer prospecting with easy

campaign management

Increase the revenue and longevity of your business
Popular features of that have been replicated in
1. Smart Search
The user-friendly smart indexing search leverages the speed and accuracy in finding the company or executive information to make your prospecting stage easier.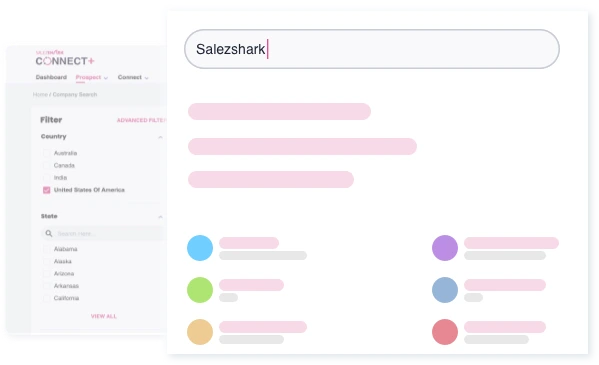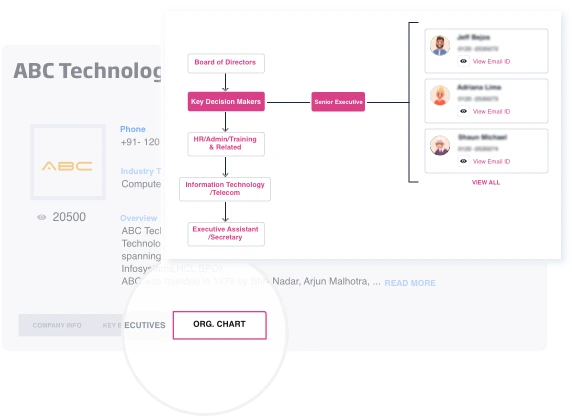 2. Org Chart
Get the visual information of employees to understand the hierarchy of any company and narrow down your search results accordingly.
It increases the visibility of any organization and provides a clear picture of team members and their respective managers.
3. Radius Search
Know your key prospects' vicinity by using the smart radius search to simplify your sales stages.
It assists you to identify the right target audience and becomes your partner-in-prospecting when searching for business buyers.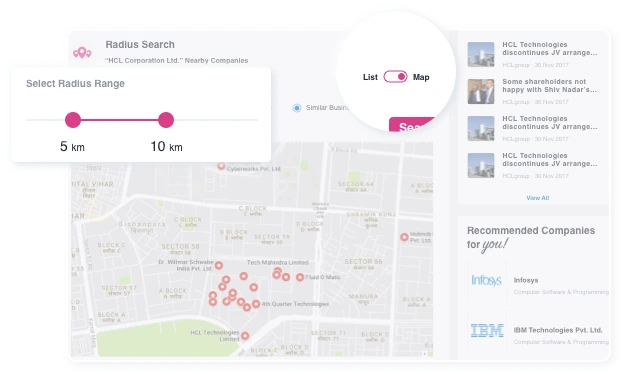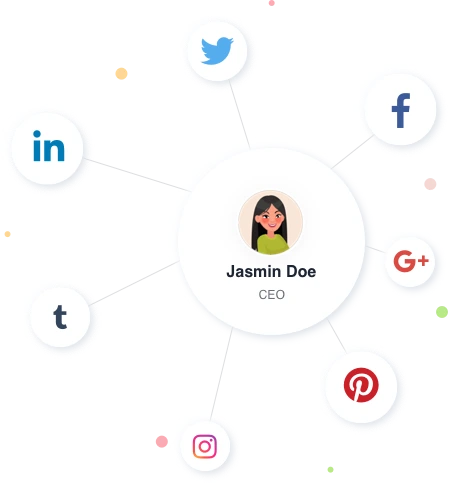 4. Social Intelligence
Build relationships by getting the social insights of your potential prospects before you reach out to them directly.
For ideal prospecting, it assists you to drive seamless conversation and is proven as the paradigm shift in digital lifestyle.
In a nutshell, SalezShark Connect+ is loaded with everything DataGuru.in offered coupled with the ease and speed of marketing automation giving you more power and flexibility to manage your marketing efforts with the best results.
How can SalezShark Connect+ help in growing your business?
SalezShark Connect+ with integrated email marketing will spruce up your sales prospecting, increase your open rates in email campaigns, and ultimately multiply your customer base by making your business process more agile and well-organized.
Email verifier
Keep your lists clean. Verify email address & eliminate wrong ones from recipient list.
Smart Lead Generation
Keep your pipeline loaded with a consistent progression of high-quality leads using web forms, landing pages, emails, search tools and other third-party integrations.
Data Driven Metrics
Data driven approach to measure user engagement metrics.
Pre-built templates
Create awesome personalized emails in seconds with flexible layouts that resonate with the taste of your target audience better.
Campaign Analytics
Measure marketing efforts & calculate productivity. Get the list of active recipients for better campaigning.
Set Up Triggers
Build trust and increase customer retention with the automated flow of regular emails.
User Management
Control user's activity with the simple permission & restriction provision.
Strong Segmentation
Segment your prospects based on demography, behavior, and more properties to develop conversions with well-targeted, personalized emails.
SalezShark Connect+ empowers you to optimize the performance of your marketing campaigns by:
Providing access to most accurate and action-oriented data
Reducing marketing expenses and efforts
Ensuring targeted outreach to your target audience with a

broader impact

and all this at the click of a button!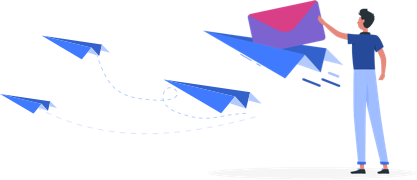 Get SalezShark Connect+
that is efficient & highly customizable
Sign up to experience the new
paradigm of Marketing automation
Choose a plan that is right for your business!
We are loved by users worldwide
OVERALL RATING

OVERALL RATING

OVERALL RATING

OVERALL SCORE

8.0
Connect with sales experts